In an era of widespread digital communication, Hospice Palliative Care Ontario (HPCO) and Saint Elizabeth are teaming up to make online learning accessible to thousands of hospice volunteers across the province.
Leveraging the unique strengths of their organizations, the partners are working collaboratively to update and transform existing classroom-based training into interactive e-learning modules that volunteers may complete at their own pace.
The program improves access to volunteer training for a larger pool of volunteers, overcoming existing barriers such as busy schedules and geographic location. This improves access to volunteer training for individuals across the province, including those in rural and remote communities.
The project increases the capacity of hospices and palliative care organizations to recruit, train, and retain volunteers, improving access to hospice palliative care in Ontario's rural and remote communities, where capacity is needed.
The program also supports information sharing and the potential for improved collaboration through discussion forums and communities of learning.
As a leader in social innovation and impact, Saint Elizabeth is committed to strengthening hospice palliative care for individuals, their families and the networks that support them. As part of its broader investments in end of life care, the not-for-profit social enterprise is contributing $75,000 over three years to support a successful transition to online learning.
By partnering with Saint Elizabeth, HPCO is supporting a real and practical need among it's membership – to increase the volunteer capacity of community-based programs and services so that they can coordinate to support a growing need for hospice palliative care in communities throughout Ontario.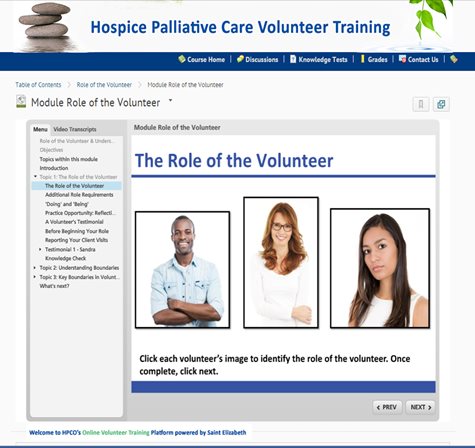 QUOTES
"Hospice palliative care in Ontario is, at its core, a community-based service that relies on the contribution of specially trained volunteers. The online training platform will improve access to required training, enabling hospices to recruit, train and retain more volunteers to support individuals with life-limiting illness and their families, thereby improving quality of life."
Rick Firth
President and CEO, Hospice Palliative Care Ontario
"Hospice volunteers help to create a loving, supportive and hopeful environment for people and families in their end of life journey. Saint Elizabeth is thrilled to be partnering with HPCO to ensure the education and training they receive is convenient, engaging and accessible."
Shirlee Sharkey
CEO, Saint Elizabeth
"Volunteers are the extra pair of hands that help us to stay in our homes longer and provide compassionate and timely care.  The government is proud to support training for volunteers in community based hospice palliative care to help people live well to the end of life."
John Fraser
Parliamentary Assistant
to the Minister of Health and Long Term Care